Happy New year to all….! May God bring all the success in your personal and professional life.
2013 has a mixture of good and bad things for me. The happiest moment of my life in last year (11-11-2013) was I became a father of a girl.  Her name is Nirupama Varun S.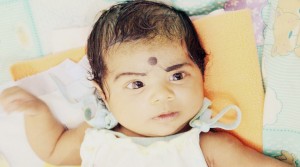 This is my sweetest and precious gift from God. Thanks to my dad, mother, wife, grandmother & brother for being with me in my up and downs. This year I am planning to focus more on Business Intelligence, Big Data & NoSQL.