Celebration And My Activities
Celebration And My Activities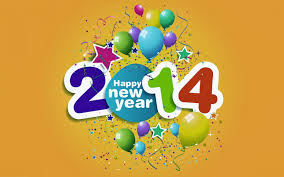 Happy New year to all….! May God bring all the success in your personal and professional life.
2013 has a mixture of good and bad things for me. The happiest moment of my life in last year (11-11-2013) was I became a father of a girl.  Her name is Nirupama Varun S.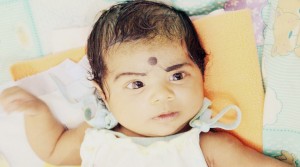 This is my sweetest and precious gift from God. Thanks to my dad, mother, wife, grandmother & brother for being with me in my up and downs. This year I am planning to focus more on Business Intelligence, Big Data & NoSQL.
I was part of the IT Industry for last 5+ years. This industry is providing direct employment to 2.8 million people. I had worked with companies ranging from very small companies such as start-ups to very large MNC's. With my little experience I enjoyed pros and cons of this Industry. Here I am going to discuss about my thoughts and knowledge which I got from my personal experience, different blogs, websites, colleagues etc.
Do you know How Big is our industry?
 According to NASSCOM Indian IT Industry is expecting $87 billion revenue in the year 2013-2014. According to Gartner – expected worldwide IT spending in the year 2013 is $3.7 trillion. Out of $3.7 trillion, we are getting only $87 billion business.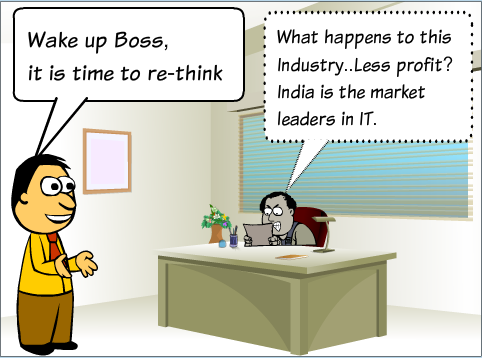 Time to re-think: Are we world leaders in IT industry?
 What constitutes Indian IT Industry?
 IT Services – 58%
BPO – 23%
Engineering & R&D – 19%
 The advantage of Indian IT Industry is cheap labour. The Indian IT Industry business model is low cost high volume business model. Most of the Indian IT companies are taking low end work. The average rate of Indian resource is $15 – $25 per hour. IT services and BPO requires only below or average skilled labours rather than good experts. The Engineering division such as software development requires 85% average skilled workers (coding coolies – Really I don't like this word, But this what you can hear outside India) and 10% skilled workers and 5% extremely skilled workers or they are experts.
 Innovation – Much-talked rarely-implemented
 In most of the company's websites or in their slogan you will find the word Innovation. As per dictionary; Innovation is nothing but a new idea, new process or a new product. I found only a few Indian companies where I think innovation is happening such as Directi, Mob me, Infosys (at their start-up phase), lot of other companies too. This is purely my personal view; it may or may not be correct. The readers should think here genuinely…! The advantages of these companies are; they have a product and a unique selling point. The First two companies Directi & MobMe employed very less people comparing to outsourcing companies and their profit margin per employee is more when compared to other outsourcing companies. So the value of generated per employee is more when compared to their profits. That means employees are safe (according to their job security), intelligent, innovative and very skilled.
Note: Big Outsourcing companies also have innovations and they keep innovating. That's why they are in the TOP…….!. We should respect them because they are creating jobs for majority people in India.
 Inside Indian IT company:
This is really an interesting topic to discuss. I have variety of contact persons like fresher's, technical guys, technical experts, managers, president, CEO, Directors etc.
CEO, Directors – Company Owners:
           Most of the CEO, Directors, and Company owners are good and smart people who tried or continuously trying to develop the company. Why I will say they are good people – Most of the company owners struggled a lot while setting up a company because they took the risk and struggled a lot. No expert employees or group of people helped them during their initial stage. Some people only helped them at their initial stage, but I saw some company owners forget the people who helped them in their initial stage after company is grown. They have lot of reasons to justify – As a human I will not stand in their side unless these helped people became criminals to the companies.
These guys have only one thought in their mind that is next year profit & company stability, cost-cutting etc.
Managers, Team Leads or (Mini Owners):
         Managers are people who stand in between employees and company management. They are forced to obey orders from superiors. They have face lot of pressure. Most of the managers avoid taking risk as it will finally affect their career. Good Managers will take risk and fight with the situation and bringing the real success to the company. But the worst part of the story is the company owners will not recognize the real working guys rather they go behind others.
          But some managers will not take risk, rather they act in such a way that they were doing all the work, sending unwanted emails, showing very busy, late night magic (staying late after office hours) , showing intelligent by making use of their subordinates etc.
Technical Experts/ Techies:
          This is the prime area where Indian IT Industry creates lot of job opportunities. Most of these guys (especially in small companies) think that they are technical experts, without them company can't run – But business people know how to run. I heard from lot of guys who are in this area saying that in computer Technology Indian guys are king. This is totally a misunderstanding; because computers, windows, Linux are not developed by Indians rather we support these – Note this point. Attrition rate among Techies are very high.
          But I will not say Indians are not good in technical side, the reason behind is lot of Indian experts are there in development of Windows, Photoshop (Adobe Photoshop engineer – Vinod Balakrishnan).
I am sure that lot of readers don't like what I said about managers, techies etc. Wait before you reach a conclusion…………..! I know there are lot of normal questions come to you mind such as,
If Indians are not good, why this much job opportunities came to India?
Every one can't become Vinod Balakrishnan know?
I am also a techie I am contributing a lot to this industry, working day and night continuously and company said they need me….!
How company will sustain without techies?
I will say whatever thoughts came to your mind is correct but see the latest trends.
In India salary of employees is growing but the clients are forcing the outsourcing companies to reduce the cost in contracts. Indian IT companies are also facing tight competition from countries like china, Philippines, Brazil etc.
What will the CEO of the outsourcing companies will think in this situation? – Bring multi skilled employees, automate the repeated jobs, hire cheap labour etc.
Every one can't become Vinod Balakrishnan but you can become expert in technical field.
Do you know one thing- Some of Big IT Outsourcing companies already had put contract with IPSoft a company which will automate the most of the repeated jobs.
Opportunities for Indian IT Companies for Tomorrow: 
Indian IT companies need to focus remaining IT business from the world rather than supporting services. Here is the place where Indian companies need to think about real innovation…..!
Find the real talent from the talent pool.
Create innovative products rather than just supporting.
Make use of the underutilized employees in the talent pool of the company.
Keep more focus on Engineering and R&D area.
Special Note to IT Colleagues:
Update with the technology. Understand and learn the next wave of technology (such as cloud, Big data, NoSQL).
Luxury of the IT Industry may end soon, so think twice while doing purchase, investment etc.
Re-build yourself as a Multi-talented person.
Set a career and constantly try to reach there.